Bangkok, Thailand — As we look ahead to 2024, Thailand Traders Fair and Awards 2024 is set to return to the illustrious Shangri-La Hotel, Bangkok on February 3rd. It's not just an event; it's a celebration of ambition, knowledge, and meaningful connections in the Finance and FinTech industry.
This isn't your typical gathering; it's a journey. Over 30 esteemed financial companies will unveil their world at the expo. Yet, it's not just about business; it's about making finance accessible. At the core of this event are engaging seminars and workshops led by global experts. These aren't dry lectures; they are pathways to demystify the complexities of the financial world. Whether your interests lie in forex exchange, stocks, options, bonds, cryptocurrencies, or forward markets, our expert speakers will empower you with knowledge. In the midst of this learning, anticipate entertainment, thrilling lucky draws, and live performances to add a touch of joy to your experience.
As twilight descends, we come together for the Gala Dinner, a moment of connection. Picture yourself dining with industry leaders from financial companies and esteemed speakers in an exclusive setting. It's not merely networking; it's the opportunity to forge lasting relationships. Please note that access to the Gala Dinner is exclusively reserved for VIP ticket holders.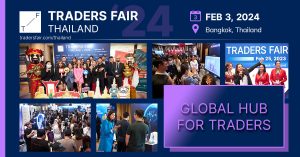 Official banner announcement of FINEXPO for tradersfair.com/thailand
Thailand Traders Fair and Awards 2024 isn't just an event; it's a thriving community. Whether you're a finance enthusiast, a seasoned professional, or an individual seeking to redefine your financial journey, this event extends a warm welcome.
We're not merely anticipating your presence; we're eagerly looking forward to meeting you, hearing your unique stories, and sharing our passion for finance. For registrations, comprehensive event details, exploring speaker opportunities, or discussing media partnerships, please visit tradersfair.com or reach out to FINEXPO at info@finexpo.org.
Join us in transcending finance beyond the ordinary. Thailand Traders Fair and Awards 2024 is where ambition meets expertise, and connections foster new horizons. Be part of this narrative; we'll see you there!
Visit Traders Fair social networks:
https://www.facebook.com/TradersFair
https://www.instagram.com/tradersfair.asia
https://www.youtube.com/user/finexpo
_______________
Disclaimer: This content is provided by the client. Museigen.io neither endorses nor takes responsibility for the content, accuracy, quality, advertising, products, or other materials featured on this page. It is recommended that readers conduct their own investigations prior to engaging with the company. Museigen.io is neither directly nor indirectly accountable for any harm or loss that is alleged or proven to have occurred as a result of using or relying on any content, goods, or services mentioned in this press release.