So, you've stumbled upon Block Tides, and at first glance, you might think, "What's all the fuss about?" A blockchain PR firm with a founder who's taken the world by storm? Sure, we've heard that one before. A sleek website, a list of services, and a contact page – it seems pretty standard, doesn't it?
Well, hold on to your hats because there's more than meets the eye.
The Unexpected Origin: From Zero to Hero
Picture this: a brand new player in the blockchain PR game, founded by a powerhouse named Myrtle Anne Ramos. It's not just another entrepreneur but a woman on a mission. Block Tides wasn't built in a day, and it indeed wasn't built to be just another PR firm. It was built with a fire, a passion for blockchain, and a vision to transform how blockchain projects talk to the world.
It's like finding a rare gem in a sea of stones – unexpected yet utterly fascinating.
Myrtle Anne Ramos: A Mosaic of Passion and Innovation
Myrtle Anne Ramos is no ordinary entrepreneur. She is a vibrant tapestry woven from diverse threads of interest, passion, and dedication. From her love for art, music, and travel to her deep fascination with astrology, alchemy, and the world of blockchain, Myrtle embodies a rare blend of creativity and technical acuity.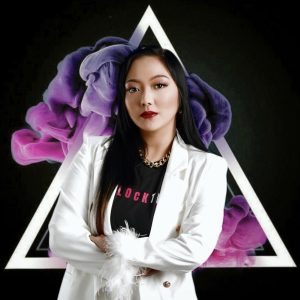 Photo grabbed from Myrtle's Facebook Account
Tracing the Roots – Myrtle's Multifaceted Background
Myrtle Anne Ramos's journey is a story of resilience, innovation, and unwavering belief in the power of blockchain. With over a decade of experience, she has played pivotal roles in technology, business development, marketing, and public relations, helping hundreds of companies undergo transformative journeys.
A renowned figure in the blockchain, crypto, and metaverse arenas, Myrtle has successfully raised over $5.4 million for various ventures. Her influence extends to being an official influencer at CoinMarketCap, and she stands tall as an alumnus of the prestigious Draper University.
Moderator at HYFI 2023 at HCMC, Vietnam (Photo grabbed from her Facebook account)
Her leadership roles include serving on advisory boards such as the EC-Council Advisory Board and the International Council of E-Commerce, showcasing her commitment to shaping the future of technology and e-commerce. Beyond her impressive professional repertoire, Myrtle is a creative soul dedicated to bridging the gap between humanity and nature through sustainable practices and art.
In the Realm of Blockchain: Myrtle's Impactful Ventures
As the Chief Executive Officer and Founder of Block Tides, Myrtle has catapulted the company to the forefront of blockchain PR. Her previous venture as Co-founder & CEO at PlaceWar and Co-Founder of Asia Token Fund News further underscores her ability to lead and innovate. Her affiliations as an official member of Forbes Business Council, Founder and investor Scout at Amazon Web Services, and Global Ambassador at WomenTech Network highlight her influential presence in the tech community.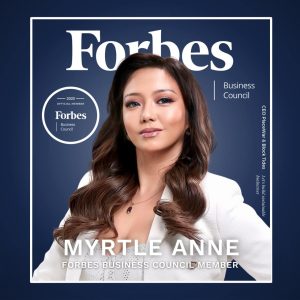 Official Member of Forbes Business Council 2023 (Photo grabbed from her Facebook account)
Women in Blockchain: Breaking the Mold
In a world dominated by suits and ties, Myrtle stands out. She's not just leading the charge; she's tearing down walls and paving the way for women in blockchain. Block Tides isn't just her company; it's a statement. A statement that says, "Women belong in the blockchain, and we're here to stay."
It's audacious, it's bold, and it's indispensable.
Milestones and Moonshots: The BlockTides Journey
So, here we have Block Tides, a company that's reached impressive milestones, grabbed the attention of the blockchain world, and made a name for itself. But it's not just about the accolades and the recognition. It's about the journey, the hustle, and the relentless pursuit of something greater.
Myrtle didn't just create a company; she made a movement.
Block Tides: A Closer Look
Block Tides is a distinguished PR and marketing firm in the blockchain and technology sectors, providing a comprehensive suite of services from Growth Hacking and Social Media Management to Public Relations and Community Management.
Renowned for creating impactful results with a global reach, the firm has secured millions of impressions daily, with an extensive community of over 2.8 million fans and followers across various social media platforms. Their impressive history of hosting over 100 successful fintech and blockchain summits, coupled with their ability to raise over $50 million for startups and companies, showcases their unparalleled expertise and success in the industry.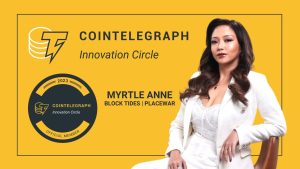 Official Member of Cointelegraph Innovation Circle (Photo grabbed from her Facebook Account)
Since 2016, Block Tides has been backed by an experienced team of marketers and PR professionals heavily involved in Blockchain Technology, Cryptocurrency, Web 3, NFT, Metaverse, and DeFi. Their extensive network, including partnerships with Block Asia Labs and Asia Token Fund, provides them a unique edge in delivering strategic, results-driven campaigns.
Proudly part of a global network that spans 25 countries, Block Tides' commitment to excellence ensures their clients receive the best in international services, resulting in massive worldwide reach and substantial results.
The Future: Bold Moves and Bigger Dreams
What does the future hold for Block Tides? Well, if the past is any indication, it's bound to be nothing short of extraordinary. We're talking about expanding horizons, forging new partnerships, and continuing to be a force of nature in the blockchain PR world.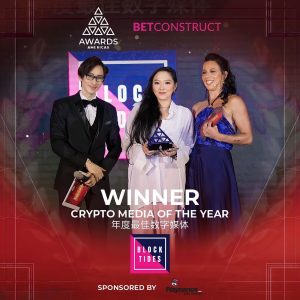 Crypto Media of the Year 2023 Award by AIBC World Asia Awards 2023 (Photo grabbed from Facebook)
Block Tides isn't just on the rise; it's skyrocketing.
Conclusion: The Unlikely Hero of Blockchain PR
So, there you have it. Block Tides, under the fearless leadership of Myrtle Anne Ramos, is not just another PR firm. It's a disruptor, a trailblazer, and an unlikely hero in the blockchain space. It's proof that with the right vision, a relentless spirit, and a willingness to break the mold, you can turn the seemingly mundane into something utterly magnificent.
Block Tides is not just making waves; it's creating a tsunami. And the world is watching.
Get Involved: Connect with Myrtle and Join the Movement
Inspired by the story? Ready to dive deeper and become a part of the blockchain revolution? Connect with Myrtle Anne Ramos on her LinkedIn and follow her journey through the blockchain world and beyond. Stay updated with the latest from Block Tides, and discover how you can be a part of the change.
Don't just stand on the sidelines. Get involved, make a difference, and let's disrupt the blockchain PR game together.
Follow Block Tides on Facebook
Remember, the future of blockchain is in our hands, and with leaders like Myrtle Anne Ramos at the helm, the possibilities are endless. Be bold, be brave, and let's make waves together.
————————————————
Disclaimer: "The articles on this website reflect the opinions of the respective writers and are not the opinion of Museigen.io. In addition, nothing in this article should be considered as financial advice. It is essential to conduct your independent research and consult with a qualified financial advisor before making any financial decisions."