On the evening of November 9, 2023, the Coins.ph headquarters in BGC, Taguig City, buzzed with excitement as it hosted the "Crypto and Coins Featuring Tron" event. This event promised a deep dive into the world of cryptocurrency and the thrill of exclusive giveaways, attracting a diverse group of crypto enthusiasts and professionals.
Event Kickoff
The event began at 7 PM, with attendees eagerly registering. The Global Marketing Director Kat Gonzalez opened the evening with a warm welcome, followed by David Uhryniak from TRON DAO, who shared valuable insights into TRON's ecosystem development.
The Centerpiece: Fireside Panel Discussion
The Fireside Panel Discussion, titled "Navigating the Crypto Market: Insights into 2023 and Beyond," was the event's focal point. Esteemed panelists, including Zeefreaks of ZFT, John Lim of Vertex Trading, and Chris Tan, a crypto trader and vlogger, offered their perspectives on the evolving crypto market.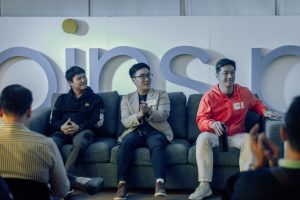 – Panelists from L-R: Zeefreaks, John Lim and Chris Tan (Photo grabbed from Coins.ph Facebook page)
Among the Privileged Attendees
The event was attended by a range of cryptocurrency enthusiasts and educators, including Fermin D Barrenechea III, Co-founder of Museigen.io, Tito Vlogs, MJ Aguilar, and Estudyante Trader, to name a few. Their presence added depth to the event by sharing their experiences and insights with fellow attendees.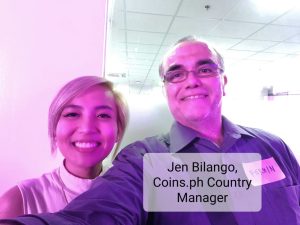 – Coins.ph's Country Manager, Jen Bilango and Museigen's COO, Fermin D. Barrenechea III
Highlights from the Panel Discussion
Market Insights: Chris and John discussed the evolving roles of Bitcoin and Ethereum in the face of emerging layer one and two technologies, highlighting Bitcoin's role as 'digital gold' and Ethereum's significance in the web3 ecosystem.
Trading Perspectives: The panelists shared their diverse trading strategies. Zeefreaks emphasized the importance of technical analysis, John focused on price action, and Chris leaned toward fundamental analysis.
Profit Strategies: The experts discussed their approaches to maximizing gains. Chris recommended Dollar-Cost Averaging, John stressed the need for a solid trading plan, and Zeefreaks advised on the 'sell half' rule.
Expert Advice: Each panelist shared a key piece of advice. John spoke about the importance of continuous improvement, Zeefreaks highlighted the need for learning and risk management, and Chris focused on the long-term value of Bitcoin.
Jen Bilango's Insightful Update
Jen Bilango, the PH Country Manager, concluded the event with exciting updates about Coins Pro which currently has the most number of coins listed among the local market players, totaling 52. Litecoin will now be added and she also introduced a new VIP segmentation program. She likewise talked about an upcoming USDC hold-and-earn program in partnership with Circle, one of the biggest stablecoin issuers with $25 billion in circulation, and the listing of Memecoin.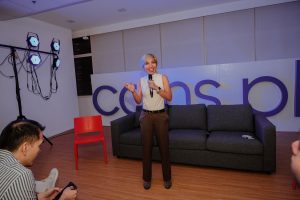 – Jen Bilango, Country Manager of Coins.ph (Photo grabbed from Coins.ph Facebook page)
A Night to Remember
The event also recognized significant contributors to the crypto community with awards such as 'Education Champion of the Year', 'Community Champion of the Year', 'Promising Web3 Creator' and 'Outstanding Outreach Innovator.' The evening wrapped up with a networking session, providing a perfect opportunity for attendees to connect, exchange ideas, and celebrate the dynamic world of cryptocurrency.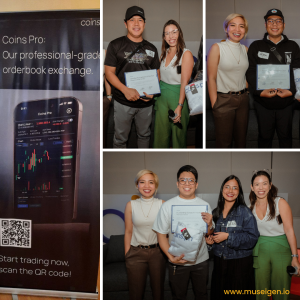 – The awardees (Photo grabbed from Coins.ph Facebook page)
A Glimpse into the Future
"Crypto and Coins Featuring Tron" was more than an event; it was a convergence of minds and ideas, showcasing cryptocurrency's vibrant and ever-changing landscape. It offered attendees a rare chance to gain insights from industry leaders, understand market trends, and be part of an innovative community. For those present, it was an evening of learning, inspiration, and envisioning the future of crypto, with the added thrill of potentially winning TRX tokens and Coins.ph merchandise.
——————————————–
Disclaimer: "The articles on this website reflect the opinions of the respective writers and are not the opinion of Museigen.io. In addition, nothing in this article should be considered as financial advice. It is essential to conduct your independent research and consult with a qualified financial advisor before making any financial decisions."